934 AUTODRAPE® Curtain Machine. 1/4 H.P.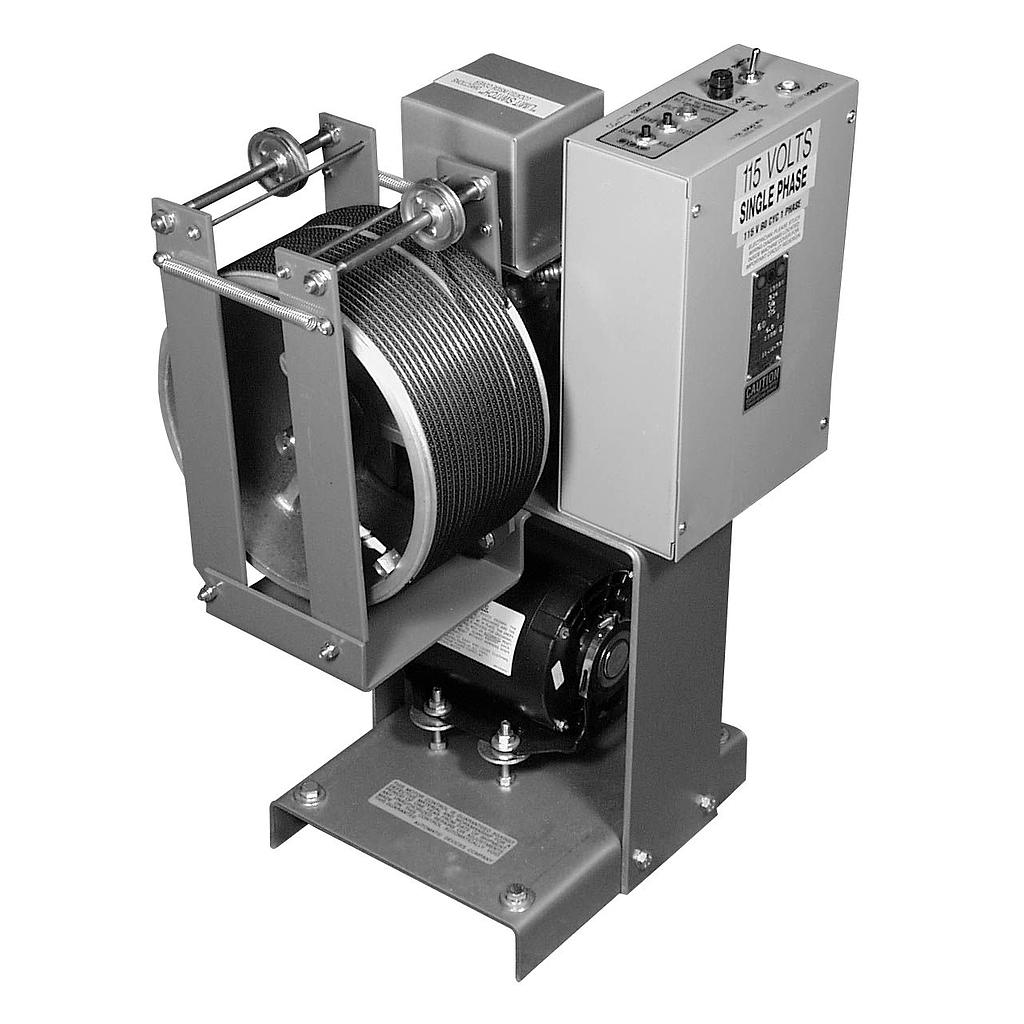 934 AUTODRAPE® Curtain Machine. 1/4 H.P.
Item #0024-001140
934 AUTODRAPE® Curtain Machine. 1/4 H.P.
Draw machine designed to operate medium weight curtains. Machine includes a 10" diameter x 5" wide helical grooved cable drum grooved for 3/16 wire center cable, belt drive, integral rotary limit switches, magnetic-control-system (full-voltage), and can be operated from an unlimited number of remote control stations (push-button type). This machine is available in a horizontal and "flying" configuration at additional cost. When ordering a "flying" configuration the track model being used with the machine must be specified. Cable speed is 86 fpm fixed. Drum upgrade to 10" x 7" available.
Note that the CTD-1 Cable Tension Device depicted in the photo is sold separately.
Guard (ME-1) not shown. Required for ETL compliance. 
Draw curtain machines and drapery motors cannot be used for lifting, since they are not designed for an overhung type of load.
DRIVING DOG: Releases drum from drive shaft. Allows drum to spin freely for manual operation of the track system. 
EMERGENCY HAND CRANK: Facilitates hand operation of curtain in case of mechanical or power failure. Not supplied when cable tension device is furnished. 
ROTARY LIMIT SWITCHES: Allow for "Full Close" and "Full Open" pre-set stops as cams engage switches. Fully adjustable cam type assembly.
934 AUTODRAPE® Curtain Machine. 1/4 H.P.
Horsepower: 1/4 
Volts: 115 or 230 
Phase: 1 or 3 
Cable speed: 86 fpm 
Maximum one way cable travel: 45 feet. 
Number of wires for remote control: 4 
Control voltage: 24 VAC 
Approximate dimensions: 18"L x 18"W x 18"H 
Approximate shipping weight: 100 lbs (150 lbs with guard)