CUSTOM CURTAIN FABRICATION
We specialize in custom fabrication for diverse industry applications
CUSTOM SEWING
Innovative and creative sewing solutions that make a difference
This is our promise
S&K Theatrical Draperies, Inc. is all about service, it is the very purpose of our business and we want to provide you with creative solutions that meet both your budget and your deadline. Our area of expertise goes from theatrical curtain tracks and rigging to custom-made draperies and stage curtains, flame retardant fabrics to motorized projection screens. We also offer drapery cleaning and re-flame proofing, as well as digitally printed messages, logos, and designs on specialized curtains and banners. We will professionally and safely install any of our curtain and track products. You can thank us later!
We specialize in custom curtain fabrication for diverse applications. Sew biz is our daily bread and butter and we know you will love our custom-made curtains and draperies!
Whether it is a high-quality opulent velour curtain for an academy award theater venue to a custom-made backdrop for a rock band, a school cafetorium stage drapery set, or a cruise ship eye-catching decorative Austrian curtain, we can do it all!
Additionally, we serve the TV, film, and recording industry with custom-made green screen backdrops for camera keying, custom made sound absorbing and sound deadening studio curtains as well as custom fabricated studio masking and space dividing curtains. We also make custom drapery, backdrops, and specialty banners for dance and ballet rooms, dance festivals, and ice skate rinks.
S&K Theatrical Draperies, Inc. also manufactures multiple curtain styles for churches, chapels, temples, and other houses of worship. Whether it is a small curtain for the church's baptistery or a large sound absorbing room dividing curtain for a fellowship hall, a custom traveler curtain with a cross appliqué for the altar area or a backstage decorative backdrop for a live night of worship, we can help you bring your project to life!
Our custom sewn curtains are often seen at exclusive events such as live concerts, award ceremonies, fashion shows, graduations, tradeshow booths, conventions, and dining halls among other spaces.
Please contact us with your custom curtain sewing needs, we will be happy to assist you!
Custom Sewing
S&K Theatrical Draperies, Inc. provides innovative and creative sewing solutions. Since 1965 our passion for custom fabrication has allowed us to assist designers, producers, architects, engineers, and ultimately end customers from around the globe. Our highly motivated and skilled sewing department team, plus our attention to detail and superior craftsmanship, allow us to serve a variety of markets and makes us a leading source for soft goods custom fabricated products. From practical sewing solutions to the most intricate custom made product –often times requiring reverse engineering- we are here to help. From robust materials to delicate sequin fabrics we can help make your vision come to life!
If you have a need for commercial custom sewing work done or have a great idea you would like to see come to life, give us a call at (818) 503-0596. We will be glad to help!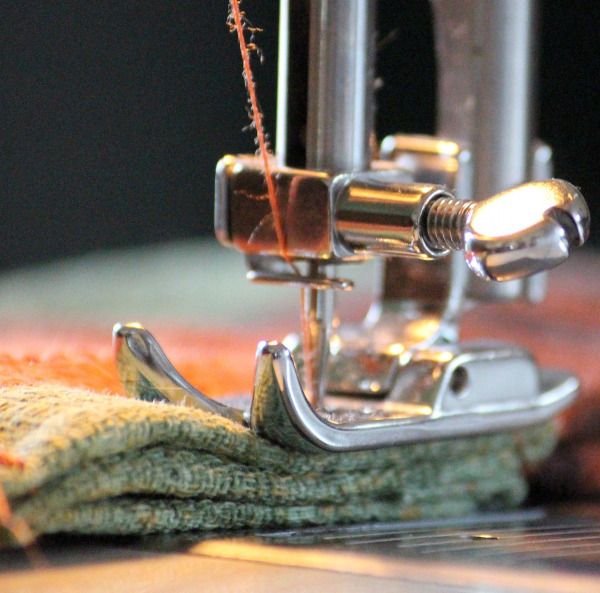 DESIGN & CONSULTATION
Bring your creative vision to life providing creative solutions
RIGGING AND INSTALLATION
Vast experience and unparalleled problem solving skills
RIGGING INSPECTIONS
Maintain, repair or replace your stage rigging equipment.
DRAPERY REPAIR, CLEANING & RE-FLAME PROOFING
Prolong draperies lifespan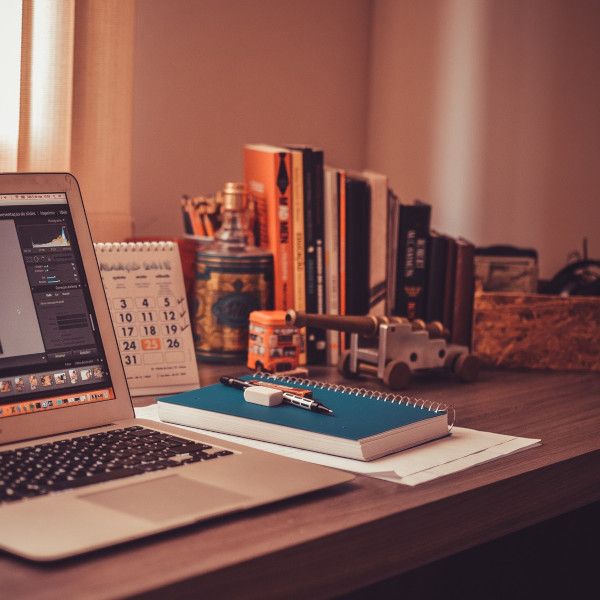 Design & Consultation
Customers can get confused and even frustrated with the amount of available information regarding curtain style options, available fabrics, specialty hardware, and theatrical supplies. We help customers bring their creative vision to life by giving insight and providing creative solutions related to their specific project and scope of work and by assisting in choosing the most suitable fabric option, combined with an eye catching curtain design and bundled up with a sturdy and durable curtain track and/or rigging setup, at an affordable price.
Whether you are an interior designer, theater consultant, architect, engineer, contractor or space owner, we are here to assist you with the design, fabrication and installation of our custom made curtains, backdrops, rigging sets and specialty fabricated products.
We want you to take pride in the achieved results and thethe quality and craftsmanship of your custom designed and installed product.
RIGGING & INSTALLATION​
Team of trained riggers with vast experience
Our trained riggers with vast experience and unparalleled problem solving skills will give your space that well deserved final touch. Whether is it hanging a stationary backdrop curtain, installing a track system for your traveler curtain or custom rigging a motorized lift curtain system, we have what it takes to bring your project to life.
We deliver and install curtain track and hardware products, counterweight rigging sets, motorized traveler curtain rigging and lift curtain rigging sets, tensioned, hand operated and motorized projections screens, specialty curtains and banners, roll-up curtain devices, moveable curtains systems, portable curtain systems, adjustable acoustical curtain solutions, room dividing and gym dividing curtains, TV studios pipe grids and studio perimeter track sets with track switchers, auditorium window curtains, classroom blackout tracks and curtains, decorative curtains and many more custom made theatrical solutions for live event productions, educational facilities, churches and houses of worship, dance, rehearsal and TV studios, industrial plants and manufacturing facilities.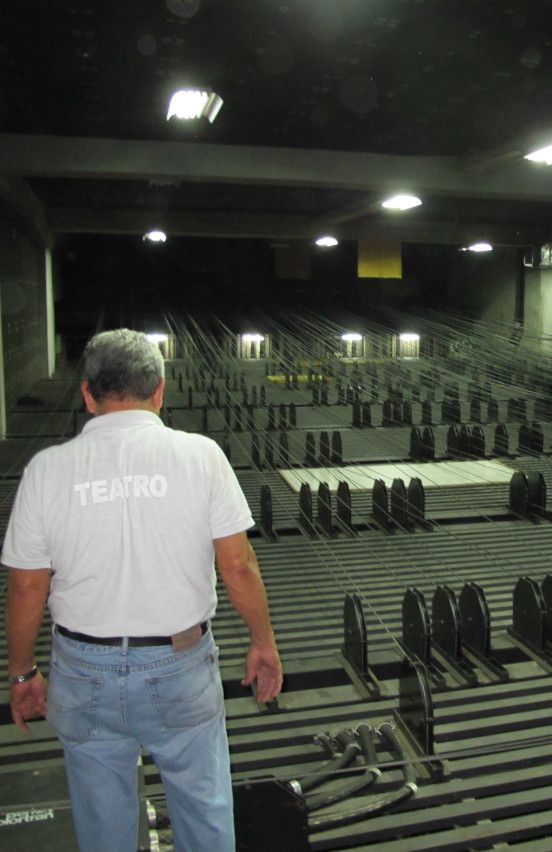 Rigging Inspections
Theater rigging safety is a serious business and we can help you maintain, repair or replace your damaged stage rigging equipment.
Do you regularly inspect and maintain your stage rigging equipment? Can you tell whether your stage equipment is in safe working conditions? Are the equipment operators trained in the proper operation and handling of the rigging equipment?
Poorly maintained rigging equipment can pose a serious risk. Protect your investment by performing a periodical stage rigging inspection. Make theater safety a priority. This will help ensure your performer's and theater equipment operator safety and will reduce your liability risk.
S&K Theatrical Draperies, Inc. will send an experienced rigging technician to perform a thorough theater rigging equipment inspection and evaluation. Our technician will start with a visual inspection of the accessible parts of the rigging system components, which will help identify unsafe and hazardous conditions. The age, condition and proper equipment installation will be assessed. Functioning equipment will be operated and all pertinent information will be documented.
Once the onsite inspection is completed, a written report including photographs of damaged, unsafe or malfunctioning rigging will be prepared. The report will include recommended actions to improve rigging performance and/or suggested repairs or upgrades.
The duration of the rigging inspection and associated fees vary and with the extent of your theatrical equipment.
Annual inspections and maintenance are recommended to help prevent accidents and protect the integrity of your performers, faculty, students and audience.
DRAPERY REPAIR, CLEANING & RE-FLAME PROOFING
Properly maintaining your theater draperies will prolong their lifespan.
S&K Theatrical Draperies, Inc. offers off-site drapery cleaning and flameproofing services. The curtains will be removed from your facilities and brought to our shop for repair, cleaning and re-flame proofing as needed. Chemically made flame retardant fabrics will require the Flameproofing chemicals be reapplied after washing the fabric with a soap and water solution.
The Flameproofing treatment is done by spraying the curtains with a Flameproofing chemical. The appropriate flameproofing product required for your curtains is determined by testing a sample of your material and or determining fabric yarn composition. Note that the FR chemicals may not adhere to some synthetic fabric blends, rendering the material not FR treatable. For that reason, we recommend fabric samples are sent to us for testing.
Do you need a custom price quote?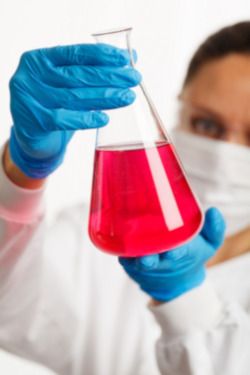 There are several variables that affect pricing and for that reason, all jobs are custom priced. In order to get pricing we require some basic information as listed below:
Photos of your space showing the drapery conditions, especially when there are tears and damages needing repairs.

Curtain quantities and dimensions (i.e: 2 curtains 20' high x 30' wide)

Curtain finish (flat or pleated)

Curtain layers (i.e: single-layered or unlined, lined or self-lined, 3 layers, etc)

Fabric types (i.e: Cotton Velour face fabric, lined with cotton Ranger lining)

Fabric width (i.e: Velour Memorable 54 inches wide)

The number of fabric panels sewn vertically (i.e: 5 panels of 54" wide Velour Memorable joined together making a curtain).
Do you have questions or require assistance figuring this all out? Don't hesitate to give us a call, assistance is only one phone call away!!
Get in touch, drop us a message