963 AUTODRAPE® lift curtain machine. 1/4 H.P.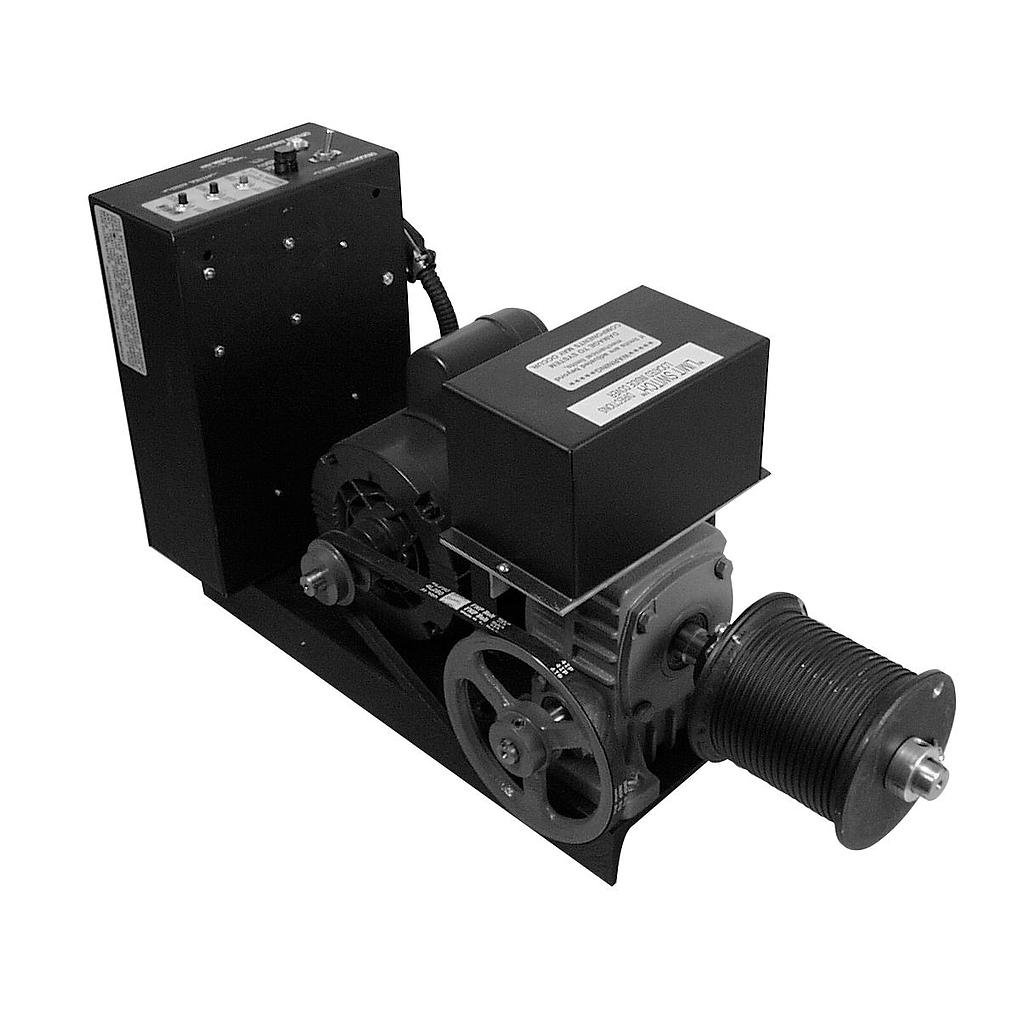 963 AUTODRAPE® lift curtain machine. 1/4 H.P.
Item #0024-001594
963 AUTODRAPE® lift curtain machine. 1/4 H.P.
Model 963 is an economical lift machine devised to raise and lower top masking, Austrian shades, and motion picture screens. Its maximum load capacity of 100 pounds falls between the lightweight Model 1003 and the heavier duty Model 2906 machines. It is equipped with a special reversing motor which permits instantaneous Stop, Start, and Reverse action from any point of travel. 
This machine is not equipped with a magnetic friction brake and some drift may occur when a stop command is issued. 
Machine includes an un-grooved 4" diameter x 4" long steel spool, integral rotary limit switches, belt drive, fixed speed AC motor and operates from a single remote control station (toggle-type). Cable speed is 18 fpm fixed. 
Guard (ME-1) not shown. Required for ETL compliance. 
These machines are not to be used for the lifting, supporting, or transporting of people. These machines should not be used to move objects over areas where people are present unless suitable safety devices are installed.
CABLE SPOOL 
Helps to assure a positive drive and minimize cable slippage. Constructed of coated steel 4" diameter x 8" long. Coated wirecenter cable must be used. 
EMERGENCY HAND CRANK 
For conversion to hand operation in case of mechanical or power failure. 
ROTARY LIMIT SWITCH 
Allows for user defined pre-set stops for the "Full Raise" and "Full Lower" positions. Fully adjustable cam type assembly.
CONTROL SWITCH 
Three-position maintained toggle type. Only one remote control station can be used with this machine, this being wired temporarily to machine at the factory to allow limit switch setting during installation. Magnetic Control System (MCSA) and Low Voltage Control System (LVCS), available as options and allow the use of any number of remote control switches. 
BRAKING EFFECT 
Provided by the gear reduction unit only. Provided when switch is moved to center "off" position. A friction type magnetic brake is available as an option. 
DISCONNECT SWITCH 
Safety toggle switch which removes power to machine's internal circuitry. 
OVERLOAD PROTECTIVE BREAKER 
Automatic type helps protect machine, track and curtain against effects of accidental overload. Must be manually reset. 
THERMAL OVERLOAD 
Built into some motors to help prevent possible damage to the motor due to overheating (furnished on some single phase motors only). 
963 AUTODRAPE® lift curtain machine. 1/4 H.P.
Horsepower: 1/4 
Volts: 115 (power & control) 
Phase: 1 
Lifting speed: 18 fpm 
Maximum cable pull: 100 lbs. 
Maximum cable travel: 24 feet. 
Number of wires for remote control: 3 (plus ground). 
Approximate dimensions: 23"L x 9"W x 13"H 
Approximate shipping weight: 100 lbs