WRC1 Wireless Remote Control System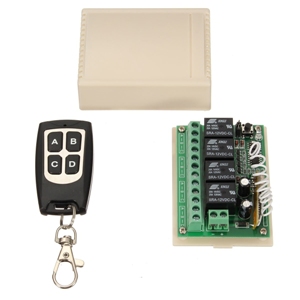 WRC1 Wireless Remote Control System
Item #0024-000854
This product is no longer available.
WRC1 Wireless Remote Control System
ADC's WRC-1 Wireless Remote Control System is ideal for operating one or more drapery machines from a hand-held transmitter. The system, which operates by radio remote control, allows total flexibility in room layout because furniture and/or drapery fabrics do not interfere with the signal. Receivers measure 4-3/8" long x 2-1/2" wide x 1" deep and require a 110 volt power source. Transmitters measure 3" long x 1-3/8" wide x 3/4" deep. Start, stop and reverse control is standard. Low Voltage Control is required on machines using Model WRC-1 Wireless Remote Control.

Specifications
| | |
| --- | --- |
| Application | Radio remote control |
| Controls | Start, stop and reverse |
| Power source | 110 volt |
| Receivers measure | 4-3/8" long x 2-1/2" wide x 1" deep |
| Transmitters measure | 3" long x 1-3/8" wide x 3/4" deep |