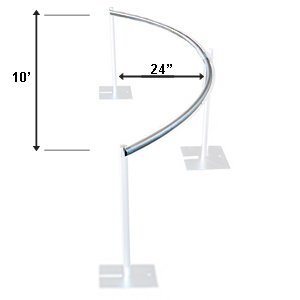 Curve Drape Support
Item #0026-001439
Curve Drape Support
This curved drape support is non adjustable
 It comes on a three-piece set. It requires three uprights (standard or adjustable) and three bases (to be purchased separately). Dimensions: 10' long (120") x 24" deep (curve arch). Don't forget to combine this item with our Standard Uprights or Adjustable Uprights and Base assemblies.
Product Features
multy-piecee
3-piece Curve Drape Support, simplifies the storage and transport.
dimension
10' (120") long with a depth of 24". Max tube length is 59". Curved Drape Support is not adjustable.
standard
Requires (3) Standard or Adjustable Uprights and (3) bases (sold separately).
combine
Four (4) sets make a complete circle - 14'6" diameter. 
flexible
Interchangeable center support hook can be located on inside or outside of arch.
Specifications
| | |
| --- | --- |
| Material | Aluminum |
| Kit | 3-piece Curve |