FF6 Flameproofing Chemical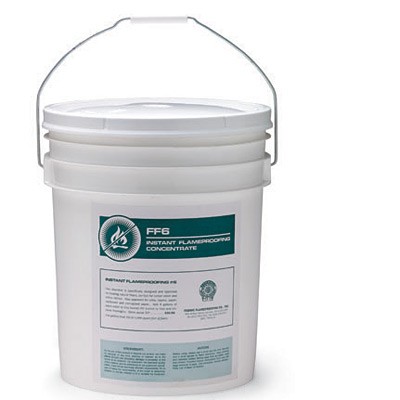 FF6 Flameproofing Chemical
Super Strength Liquid Concentrate
Item #0025-005249
INEXPENSIVE INSTANT FLAME RETARDANT
Use this pre-measured liquid concentrate for natural fibers. Best choice for unfinished muslins, scrims, cotton, rayon, viscose, and silk.
Just fill with warm water, mix, and apply.
Comes in a convenient 5-gallon bucket with 11.6 oz of concentrate, and if properly diluted FF6 will cover 1000-1500 square feet of fabric.
It's the most economical flame retardant you can buy!
*Please note that the actual packaging may vary from that pictured.
Package Weight (pounds): 5-Gallon - 14.8
FDNY REG. #5524

CAFM Reg. # C38