1402 OLL Master Carrier with Overlap Arm (LEFT)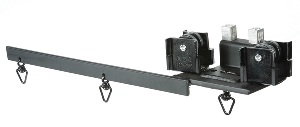 1402 OLL Master Carrier with Overlap Arm (LEFT)
Item #0024-005278
1402 LEFt-hand Master Carrier with Overlap Arm
Master carrier with an extension arm to allow curtains to overlap at track center, for bi-parting systems, using a single track in place of 2 overlapped track sections. This carrier provides a fixed overlap of 12" in front of 12" when combined with the 1402 OLR Master Carrier (Right) for cord-drawn bi-parting operation.
The plated steel swivels are spaced 6" on center. 
Plated steel body supported from 4 nylon-tired ball-bearing wheels. Snap-on nylon spacers attached to the body, helps reduce noise and friction during operation. Pivoting body allows this carrier to easily maneuver curved track systems. Model 4252A is available for walk-along operation. 
Dimensions: 15-1/2" L x 3-1/4" W 
Weight: 1 - 12 oz.
Specifications
| | |
| --- | --- |
| Material | Steel |
| Wheels | Nylon-tired ball-bearing |
| # wheels | 4 |
| Overlap | 24 in (12" in front of 12") |
| Width | 3-1/4 in (8.25 cm) |
| Kit | Single piece |