2962 Autodrape Silver service® curtain machine. 1/2 H.P.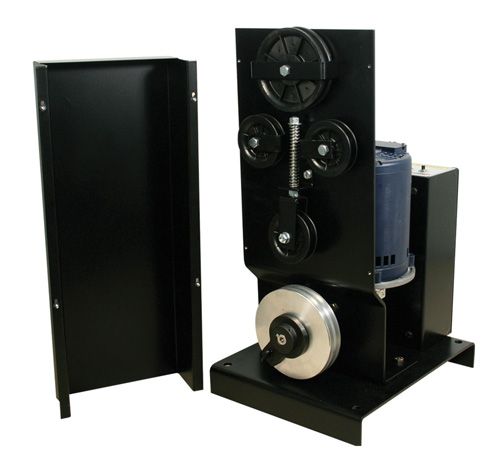 2962 Autodrape Silver service® curtain machine. 1/2 H.P.
Item #0024-001587
2962 Autodrape Silver service® curtain machine. 1/2 H.P.
No. 2962 curtain motor is identical to model 2960 curtain machine, except it is supplied with a reduced fixed speed of 45 fpm instead of 90 fpm. 
This machine is specifically designed for projects requiring curtain machines which can fit in narrow acoustical curtain pockets, and is capable of operating curtain track systems up to 75' in length (layout dependant) and curtains weighing up to 500 pounds. These machines utilize track mounted limit switches to further reduce the size of the machine and also to provide accurate positioning of the theater curtains. Controls for these machines are 24 VAC and thus are compatible with most automation systems. Input voltage is 120 VAC. These machines are equipped with a manual override device which allows the user to easily move the curtains in the event of a power failure.

One control switch three-button type marked Open, Close and Stop is provided with this machine. Any number of remote control stations can be used with this model machine. Machine is supplied with a set of controls on the control box and a set to be used as remote control station. No. 2962 direct drive machines utilize track mounted direct strike limit switches to signal the fully open and fully closed positions of the curtains. You received 2 track mounted limits with their roller yokes attached in the correct orientation. You should not have to move the roller yokes of the limit switches.

These machines are not to be used for the lifting, supporting, or transporting of people. These machines should not be used to move objects over areas where people are present unless suitable safety devices are installed.

LIMIT SWITCHES 
Track mounted limit switches are used to provide positive and accurate stops. Limit switch voltage is 24 VAC. Master carrier with tripping dog included (specify curtain track model at time of order to ensure the right master carrier is provided). 
N-GROOVE WHEEL DRIVE 
Machined with double N-grooves, the drive wheel when used in conjunction with the machine's idler wheels and center tension wheel, provides a near slip-free operation. 
MANUAL OVERRIDE 
The machine is provided with a driving dog which allows the user to disengage the drive wheel in the event of a power failure and easily operate the system manually. When power is restored the driving dog is simply re-engaged. Since this model machine utilizes track mounted limit switches, the limit positions will not be affected by the re-engagement position of the drive wheel. 
2962 Autodrape Silver service® curtain machine. 1/2 H.P.
Horsepower: 1/2 
Volts: 120 
Current draw: 10 amps 
Phase: 1 
Cable speed: 45 fpm (fixed speed) 
Number of wires for remote control: 4 
Control voltage: 24 VAC 
Control box: machine mounted 
Approximate dimensions: 15"L x 12"W x 24"H 
Approximate shipping weight: 90 lbs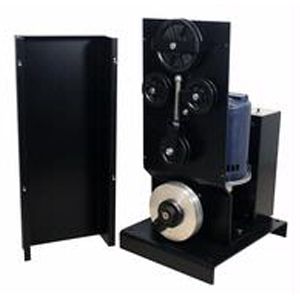 Specifications
Key Features

Limit Switches

-

N-Groove Wheel Drive

-

Manual Override

Cable Speed

45 fpm (1.15 mpm)

Control voltage

24 VAC

Number of wires for remote control

4

Phase

1

Volts

120V

Height

24 in (61 cm)

Length

15 in (38 cm)

Width

12 in (30.50 cm)

Weight

90 lbs (41 kg)

Machine Power

1/2 Horsepower