6504TV SILVER SERVICE® Curtain Machine. 3/4 H.P.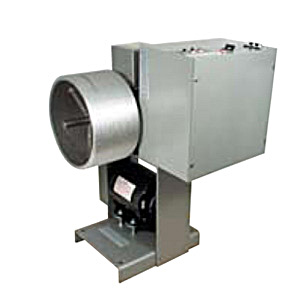 6504TV SILVER SERVICE® Curtain Machine. 3/4 H.P.
Item #0024-001586
6504TV HERCULES® Curtain Machine. 3/4 H.P.
The No. 6504-TV curtain motor combines maximum versatility with the power needed to operate small to medium sized draw curtains. Draw curtain machine with electronic frequency control. The most versatile of the ADC line, these machines provide all of the features of an intermediate draw machine plus user definable variable speed control, acceleration ramps, deceleration ramps, overload protection, low voltage control, emergency stop loops and a host of other features. In addition these machines allow the use of inverter duty 3-phase motors on single phase power sources. Machines are equipped with integral limit switches for deceleration and emergency over-travel, programmable frequency drive units, low-voltage control, and can be operated from any number of remote control stations (except speed adjustment if so equipped). Drum is 10" diameter x 5" wide and is grooved for 3/16 wire center cable. Cable speed is 0 to 86 fpm. 

Guard (ME-2) not shown. Required for ETL compliance. 
Draw curtain machines and drapery motors cannot be used for lifting, since they are not designed for an overhung type of load.
GROOVED CABLE DRUM 
Assures positive drive without cable slippage. Constructed of aluminum 10" diameter x 5" long. Coated wire-center cable must be used. Drum must be at least 10' from track live end pulley, or last pulley in system to allow cable to wind properly on drum. 
EMERGENCY HAND CRANK 
Facilitates hand operation of curtain in case of mechanical or power failure. Not supplied when cable tension device is furnished. 
VARIABLE SPEED (0-72 RPM)
Speed cannot be adjusted while machine is operating without affecting limit positions.
6504TV HERCULES® Curtain Machine. 3/4 H.P.
Horsepower: 1/2 
Volts: 120/220 (1 phase) or 208/230 (3 phases) 
Phase: 1 or 3 
Cable speed: 86 fpm 
Curtain Separation Speed: 0 to 3 fps 
Maximum one way cable travel: 45 feet. 
Number of wires for remote control: 6 
Control voltage: 24 VAC 
Approximate dimensions: 13"L x 16"W x 27"H 
Approximate shipping weight: 120 lbs (175 lbs with guard)