7005 HERCULES® curtain machine. 1 H.P.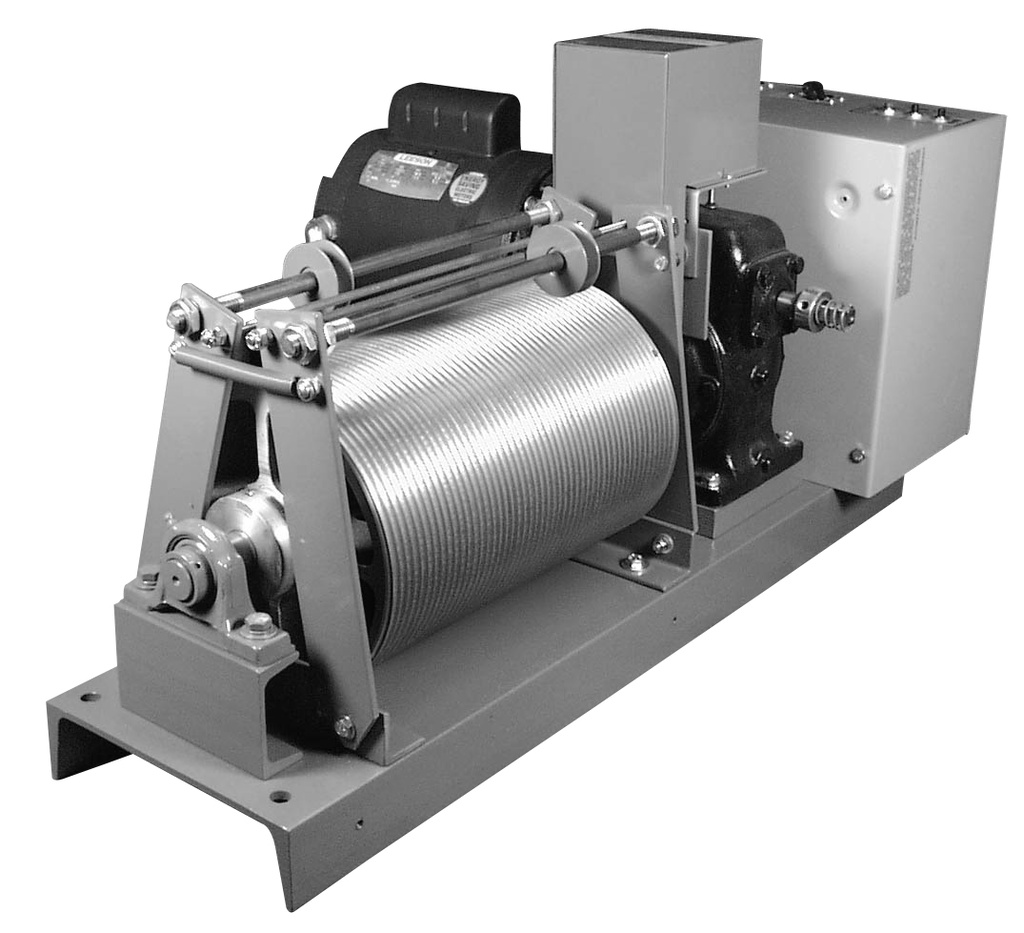 7005 HERCULES® curtain machine. 1 H.P.
Item #0024-001494
7005 HERCULES® curtain machine. 1 H.P.
Draw curtain machine Model 7005 combines versatility with the power and drum capacity needed to operate larger and heavier than normal draw curtains. 
Designed for multiple remote locations and connection to automation systems, these units include a magnetic control system (full-voltage), three-button control switches, and limit switches for the "Full Close" and "Full Open" positions. A Cable Tension Device is included as standard equipment. A magnetic brake, for instantaneous stopping, is available as an option. 
Can be operated from an unlimited number of remote control stations. 
Maximum cable travel (3/16" wire-center cable) is 90'. Cable speed is 72 fpm fixed.
Guard (ME-1) not shown. Required for ETL compliance. 
Draw curtain machines and drapery motors cannot be used for lifting, since they are not designed for an overhung type of load.
ROTARY LIMIT SWITCHES 
Allow for user definable preset stops for the "Full Close" and "Full Open" pre-set positions. 
MAGNETIC CONTROL 
Provides Start/Stop/Reverse control of the machine. Compatible with most automation systems. LVCS Low Voltage Control 24 VAC standard. 
DISCONNECT SWITCH 
Toggle switch which removes power to machine's internal circuitry. 
GROOVED CABLE DRUM 
Assures positive drive without cable slippage. Coated wire-center cable must be used. Drum must be at least 14' from track live-end pulley, or last pulley in system to allow cable to wind properly on drum. 
CABLE TENSION DEVICE 
Automatically helps eliminate cable slack. Also helps retain cable within grooves of drum. 
EMERGENCY HAND CRANK 
Facilitates hand operation of curtain in case of mechanical or power failure. 
CONTROL SWITCHES 
Three-button type and marked Open, Close and Stop. No limit to number of control stations that can be used. Two supplied with each machine, one built on the machine and one to use as a remote control station. 
OVERLOAD PROTECTIVE BREAKER 
Automatic type helps protect machine, track and curtain against effects of accidental overload. Must be manually reset. 
THERMAL OVERLOAD 
Built into some motors to help prevent possible damage to the motor due to overheating (furnished on some single phase motors only). 
SAFETY RELAY 
Prevents single phase motor from continuing to run in the same direction when a push-button is pressed at the same instant the limit switch is tripped. 
7005 HERCULES® curtain machine. 1 H.P.
Horsepower: 1 
Volts: 115 or 230 
Phase: 1 or 3 
Cable speed: 72 fpm 
Curtain separation speed: 2.4 fps 
Maximum one way cable travel: 90 feet. 
Number of wires for remote control: 4 
Control voltage: 24 VAC 
Approximate dimensions: 30"L x 18"W x 18"H 
Approximate shipping weight: 230 lbs