1383UNI Universal Wall Bracket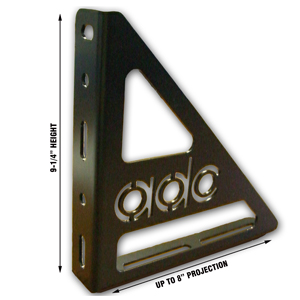 1383UNI Universal Wall Bracket
Item #0024-000897
1483UNI Wall Bracket Multi-Track Use
New ADC curtain track wall bracket which can be used to wall mount the entire line of ADC curtain track systems. A slotted mounting surface allows the tracks to be easily adjusted from 4" to 8" from the mounted wall. The bracket is designed to work with bi-parting or one-way draw track systems. 
Additionally this bracket is frequently used to support two parallel tracks on TV, broadcasting and recording studio applications. Fabricated from 1/8" steel with a black powder coated finish. Dimensions: 9.25" long x 9.25" high x 1-1/2" deep (mounting surface). Weight: 1 – 2 lbs. 8 oz.
You no longer need to know and specify the projection distance of the tracks from the wall when ordering wall brackets. Just order the 1383UNI and you will get the components needed to mount your track to any vertical wall!! 

Specifications
| | |
| --- | --- |
| Material | Steel |
| Finish | Black |
| Height | 9-1/4 in (23.5 cm) |
| Length | 9-1/4 in (23.5 cm) |
| Weight | 2-1/2 lbs |
| Kit | Bracket, and track connecting fasteners. |
| Spacing | Usage-depending |
| Depth | 1-1/2" |
| Projection | 4" to 8" |