Writers Boot Camp
S&K Theatrical Draperies, Inc. was contacted by Production Designer Doug Collum to provide theatrical-type curtains for the Writers Boot Camp studio in Santa Monica. We received preliminary drapery sizes to put together a "ball-park figure". After the project was awarded to us, a member of our experienced staff arranged for a site visitation to take final measurements and discuss installation details.
The curtains were manufactured with 50% added fullness, with the fabric pleated into a shirr type pleat. The fabric used was a combination of Eco-Poly Velour 15oz IFR for the double-sided front window drapes, and Eco-Poly Velour 22oz IFR for the mirror side drapes. The fabric color of choice was Cypress.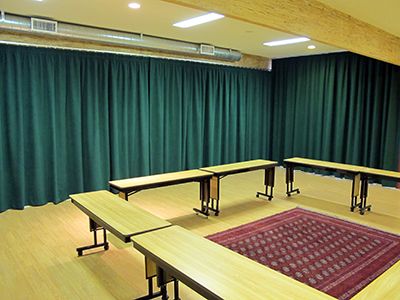 Studio with the drapes closed
The Encore drapes were installed on a SPECIFINE® 113 Series walk-along track system. Fiberglass drapery wands were added to facilitate the open/close walk-along operation.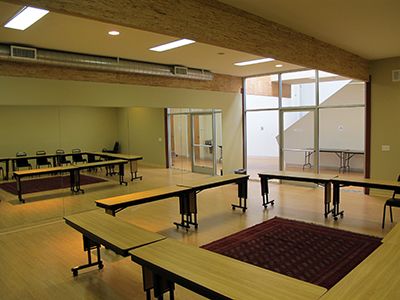 Studio before the drapes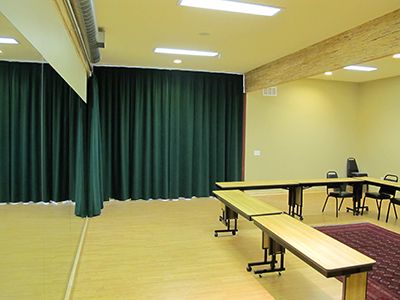 Draped entrance side

This curtain was installed on a surface-mounted SPECIFINE® 113 Series curtain track. The drapes were manufactured with a double-sided finish for the same elegant look on both sides. Fiberglass drapery wands were attached to the No. 1132 Overlapping Master Carrier for easy walk-along operation.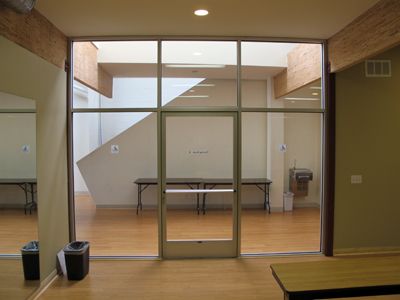 Entrance side before the drapes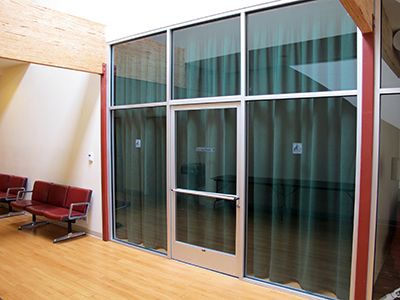 A view from outside the studio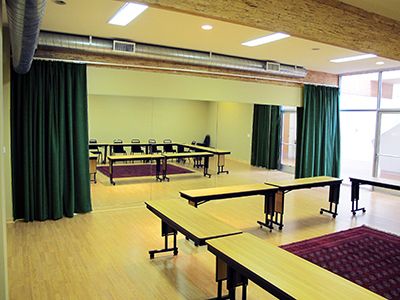 Curtains in the stack position

The mirror side curtain track was attached to the wall using No. 2163 Projection Brackets (wall mount installation).