Keane Recording Studio
This new studio located in Reseda, California was in need of a set of custom bent curtain track and acoustical velour draperies. We worked with the client in the design phase, and the project was completed in less than a week. Because of the odd shape of the studio, our experienced installers had to create several custom curves in various radiuses, including a reverse curve. Our FLEX-I-TRACK® 132 Series curtain track was the perfect match for this application, and was easily custom curved on site. The curtains were made from Cotton Velour 25oz FR with 50% added fullness for added sound absorption.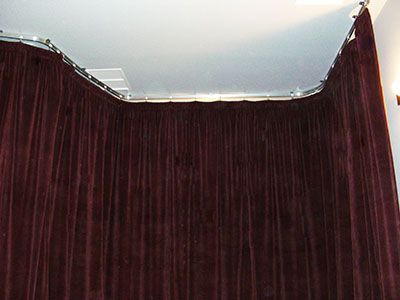 South corner
Curtain deployed covering studio south corner. Curtain track was installed as a continuous system, allowing curtain to be traveled anywhere across and along studio.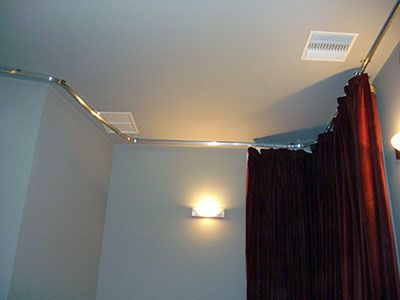 Curved I-Beam track and curtain

Curtain gathered on south corner of studio, and view of custom curved track system. The 1300 I-Beam track was flush mounted to drywall ceiling with 1423 ceiling clamp, and fastened to framing above.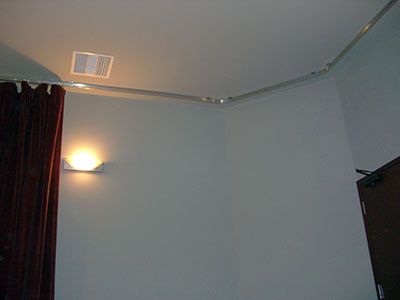 West Corner of studio

Curtain track was installed at a 5 inch distance from side walls to allow for proper curtain travel and easy gathering.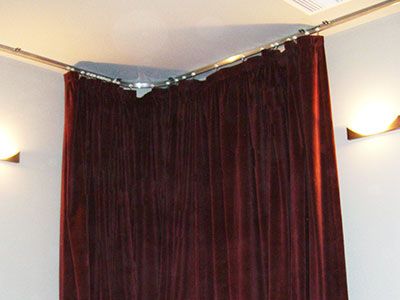 Curtain bunched up

Heavy velour curtain in the open position. Moving curtain around the room provides with different sound conditions.