Curtains
S&K Theatrical Draperies, Inc. custom manufactures a wide variety of curtains and backdrops. In addition to stage drapes and theater curtains for schools, churches, casinos and TV and rehearsal studios, we also manufacture curtains for special events, touring bands and live shows. Are you looking for hospital curtains, Ripplefold or grommeted curtains? Do you need drapes for your trade-show booth? Well, you have come to the right place!
Contact us to chat with one of our friendly sales representatives. Our goal is customer satisfaction, and we are here to help you make your dream curtains come true!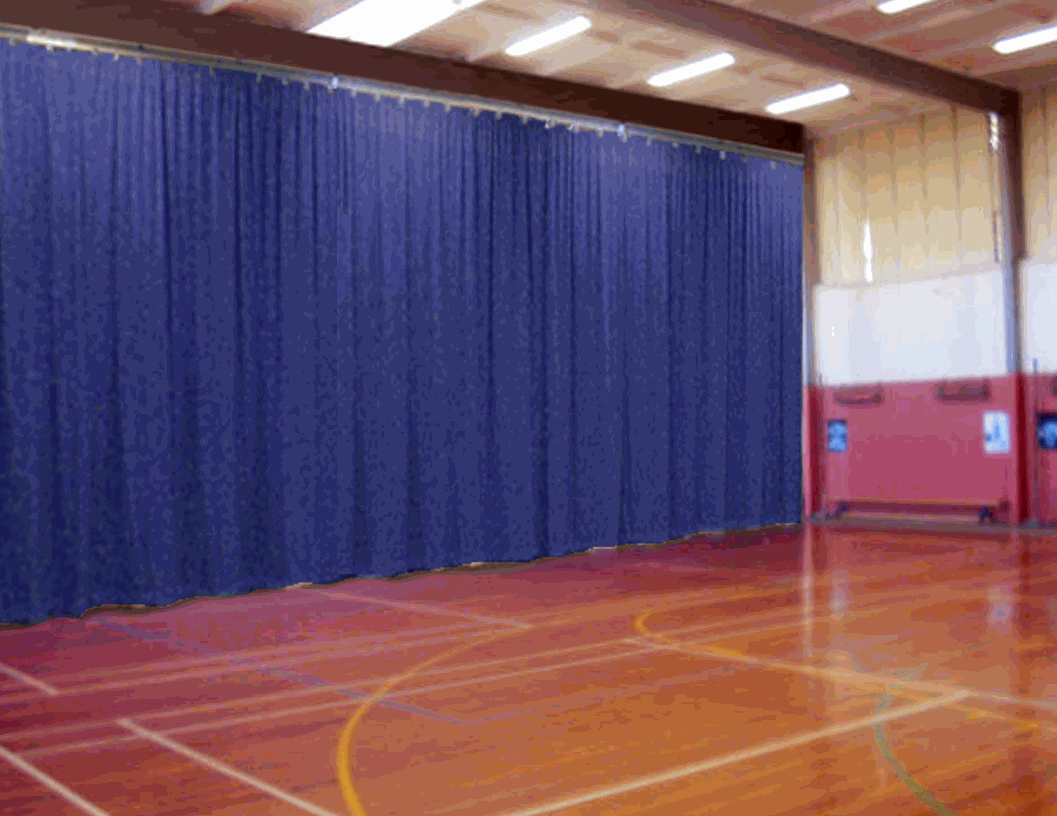 Room and Gym Divider
Room dividing curtains are used as partition curtains to section-off auditoriums, gymnasiums, church halls and warehouses. When used to divide a gymnasium or industrial plant, often times these curtains are made with a flat -unruffled- finish out of heavy weight Vinyl material. For other spaces and applications that require a more decorative finish, these curtains can be made from a variety of flame retardant materials.
We also manufacture multi-layered acoustical room dividing curtains to improve the sound quality of a room, to control sound reverberation or simply block-off sound. These curtains are often times manufactured with multiple layers of sound absorbing materials and can be interlined with a layer of mass loaded vinyl (MLV) to help isolate the sound.
Do you have questions or need help deciding which Room Dividing Drape would be most appropriate for your space? . Please contact us to chat with one of our friendly sales representatives. We will be glad to answer all your questions!
Window Curtains
S&K Theatrical Draperies, Inc. manufactures a variety of window curtains for diverse commercial applications. Our various curtain styles and finishes can be seen in auditoriums, conference rooms, theater spaces, store fronts, hotels lobbies and commercial buildings of all kinds.
We make privacy window curtains, decorative window curtains, and acoustical window curtains. From a simple single layered sheer curtain to a multi-layered decorative acoustical solution with thermal insulation properties, we got you covered!
Additionally we fabricate blackout school classroom curtains, used to darken the space during classes, or just to block out sunlight. These curtains are also often used to provide privacy in the event of a school emergency. Because of the thermal properties of some of the drapery fabrics we carry, blackout curtains and darkening curtains help reduce the heating and air conditioning expenses, making the window drapes an important energy saving alternative.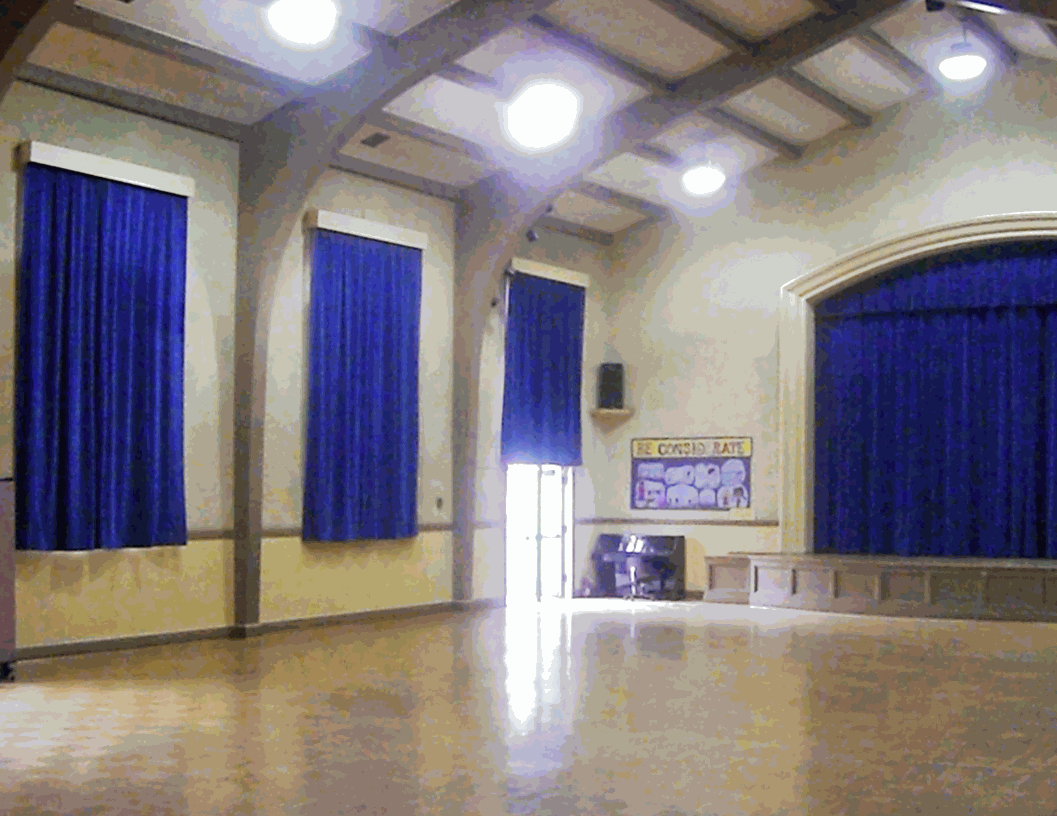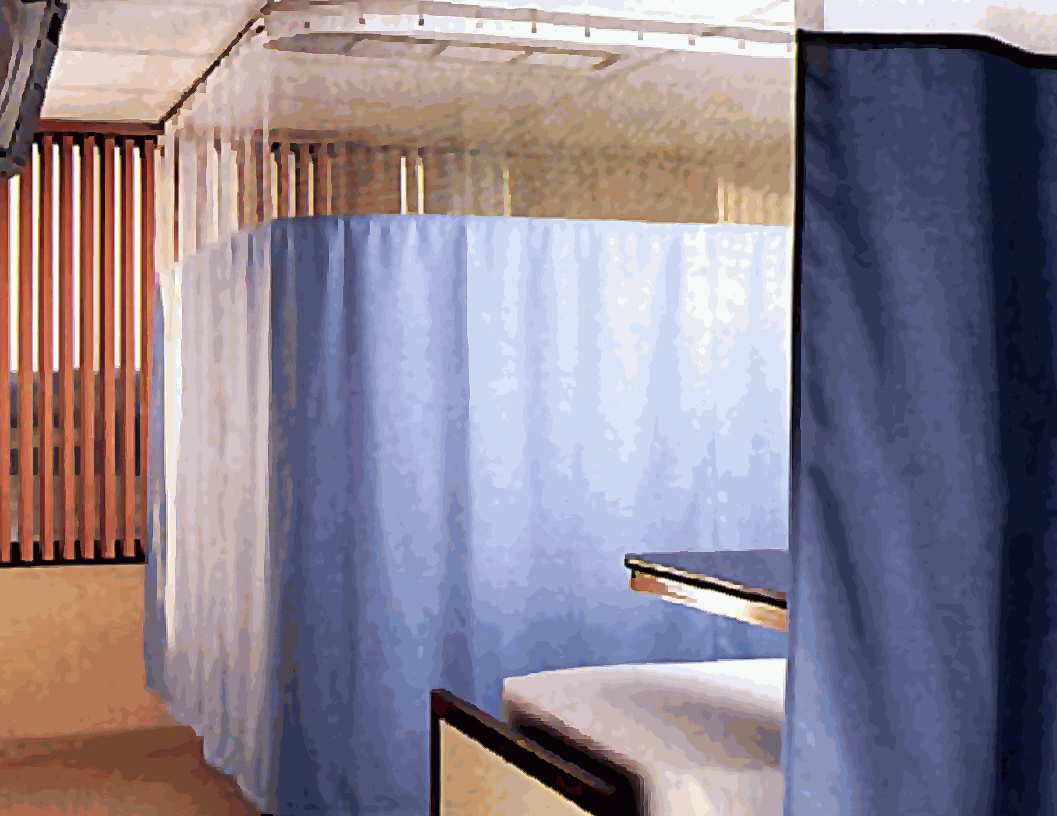 Cubicle Curtains
Cubicle and privacy curtains -also known as nurse curtains and medical curtains- are most common in medical and healthcare facilities like hospitals, patient rooms, infirmaries, nursing homes and health educational facilities.
These curtains are used as visual barriers to section off a space and to provide privacy for patients in a simple, convenient and economical way. Made from inherently flame retardant (IFR) and antimicrobial fabrics, these curtains are available in a variety of colors and patterns. Cubicle curtains can also be made with a mesh top to allow light to enter the space and to provide with air circulation.
Privacy curtains are installed on cubicle track systems and the curtain grommets connects directly to the track carriers with the option of using drop beaded chain hangers to suspend the curtain below the traveler track system, eliminating the need for the top curtain mesh.
Cubicle draperies and in most cases are machine washable at 160°F.