2928 Silver Service In-Line Machine for 280 Track
2928 Silver Service In-Line Machine for 280 Track
Rango de precios
$5619.35 - $5669.71
Item #0024-001581
2928 Silver Service In-Line Machine. 1/2 H.P.
This machine is specifically designed to work with No. 280 Series tracks, and for projects requiring the curtain machine to be located off of the finished floor. This model machine is designed to attach to, and align with, the curtain track and be supported by an overhead structure via eye-bolts mounted to the machine's base. The machine eliminates the vertical operating cables that normally run from a floor mounted machine to the track live-end pulley. The control box for this model machine is connected by 6' of BX cable to the machine. Control is stop/start/reverse from any point of travel.

Machine can be equipped with friction brakes at additional cost.
These machines are not to be used for the lifting, supporting, or transporting of people. These machines should not be used to move objects over areas where people are present unless suitable safety devices are installed.
Inline machines utilize track mounted direct strike limit switches to signal the fully open and fully closed positions of the curtains. You received 2 track mounted limits with their roller yokes attached in the correct orientation. You should not have to move the roller yokes of the limit switches. 

2928 Silver Service In-Line Machine. 1/2 H.P.
Horsepower: 1/2 
Volts: 120 
Phase: 1 
Cable speed: 90/45 fpm 
Number of wires for remote control: 4 (plus ground) 
Control voltage: 24 VAC 
Approximate dimensions: 18"L x 18"W x 18"H 
Approximate shipping weight: 45 lbs .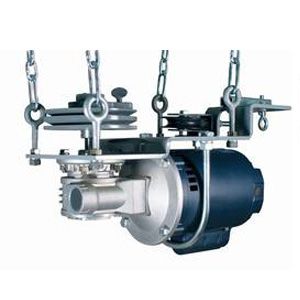 Especificaciones
Mounting Spec

Suspended

-

Ceiling mount

Velocidad del cable

90/45 fpm (2.30/1.15 mpm)

Voltage del controlador

24 VAC

Número de conductores por control remoto

4 (plus ground)

Fases

1

Voltios

120V

Alto

18 in (45.72 cm)

Largo

18 in (45.72 cm)

Ancho

18 in (45.72 cm)

Peso

45 lbs (20 kg)

Potencia

1/2 Horsepower