Ukrainian Cultural Center
We had the pleasure of designing, providing and installing the luxurious pleated stage curtains for The Ukrainian Cultural Center of Los Angeles. Stage curtains for this venue were manufactured from fire retardant Memorable Velour 25 oz color Cornflower. Curtains have a custom sewn gold trim applique that add a luxurious and delicate touch to the theatrical drapery.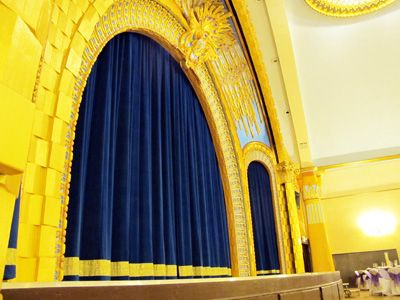 Stage Proscenium side view
Main velour curtain with gold trim, matching the proscenium architecture and decor.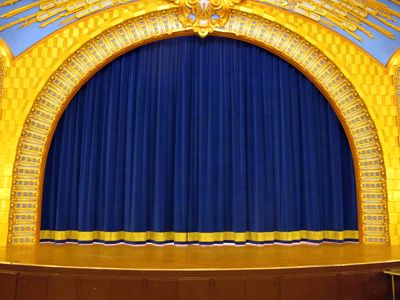 House Main Curtain

Stage center curtain, features a custom made shirred top with 75% added fullness.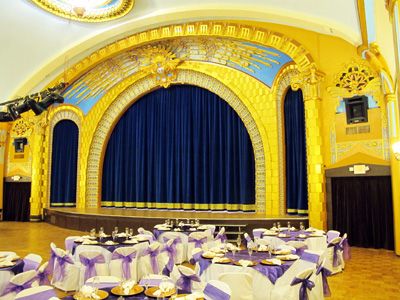 Dressing the room

A view of the astonishing proscenium curtains, as banquet room was prepared for a "quinceañera" event.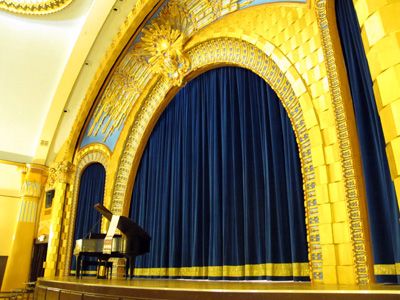 Grand opening day

Curtain and piano partnership before inaugural performance.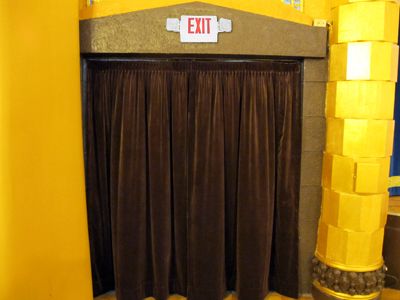 Exit curtains

The exit door curtains were made from brown Prestige Velour 26oz IFR, sewn with a pleated finish on a 50% fullness rate. Curtains were installed on existing walk-along curtain tracks.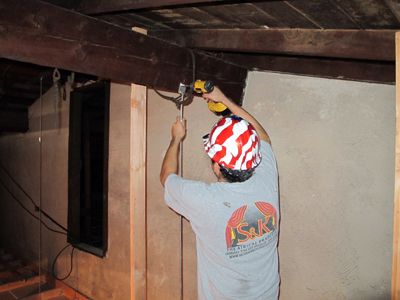 Creating the track hang points

Curtain track hang points were suspended from building joists. Highest point above stage floor was 38' high. Track suspension points were made from L-clamps and 3/8" threaded rods.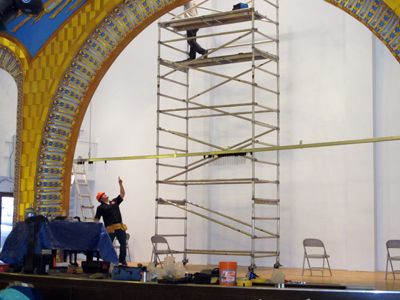 Hoisting track system

ADC curtain track system was pre-assembled on stage floor and then hoisted and bolted to pre-made custom track hang points.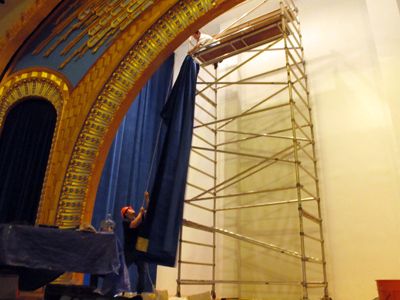 Hanging the curtains

Installers hoisting new velour curtains and hanging from brand new curtain track.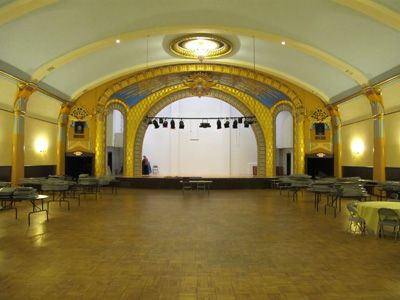 Stage before the drapery

Open stage prior to the stage track rigging and curtain installation.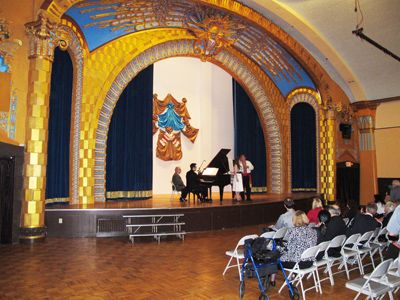 During a performance

Main curtain partially open during a gathering