Walnut Elementary School
Working as a subcontractor for Turner Construction, S&K Theatrical Draperies, Inc. manufactured and installed a motorized front traveler curtain at Walnut Elementary School. The school located in Turlock, northern California was so pleased with the result that came back for more. On a second installation trip we provided with 3 sets of masking legs, a rear traveler, one masking border and a Muslin cyclorama.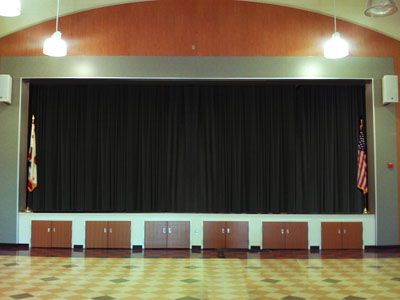 Main Drape
The main traveler drape was manufactured from Cotton Velour 25oz, shirr pleated with 75% added fullness. This bi-part curtain traverses the stage on a 170 curtain track, motorized with a No. 934 AUTODRAPE® Curtain Machine.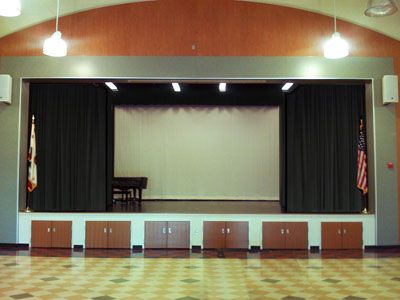 Main and Cyclorama

The front traveler drape opens, revealing the seamless muslin cyclorama.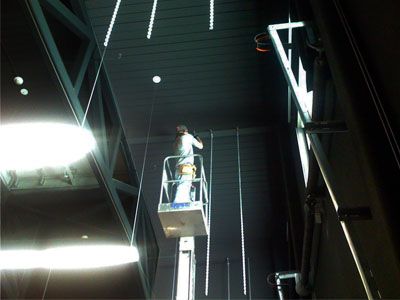 Installing the hang points

One of our installers on the lift, attaching the hang points to the 28 feet high roof joists. All the hang points were created using beam clamps and 1/4" coil proof chain.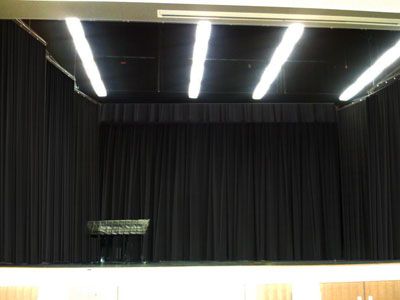 Masking Drapes

The side legs were mounted on No. 6 Rotodraper® pivot arms, which provide really practical side entrances to the stage.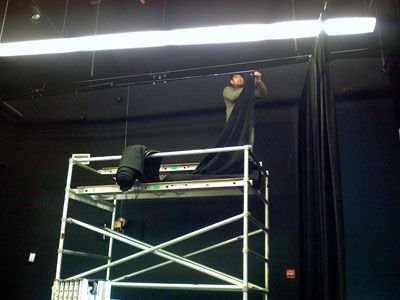 Hanging the Legs

Installer on the scaffold tieing the legs to the pipe batten.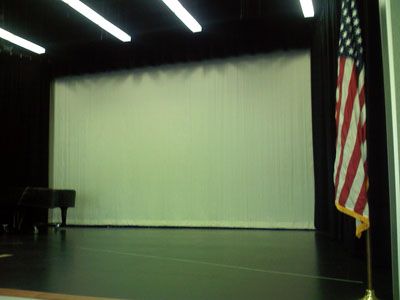 Cyclorama

The cyclorama was manufactured seamless from extra-wide muslin fabric, and installed on a one-way-draw BESTEEL® 170 Series curtain track.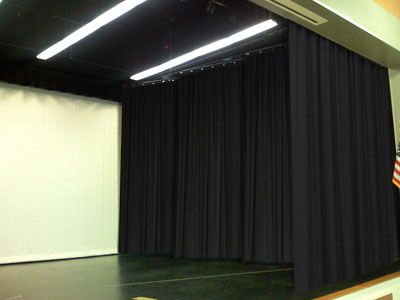 Cyc and Wings

This picture shows a partial view of the wings (side legs), the seamless cyclorama, and the front motorized curtain.