Belvedere Middle School
S&K Theatrical Draperies, Inc. provided and installed new curtain tracks and masking curtains as part of the auditorium renovation project. We custom manufactured a Main Valance, Tormentors, Side Legs (Wings), Masking Borders, a Middle Traveler, a Rear Traveler and a Cyclorama for this school. Prior to hanging the curtains, we installed No. 280 Silent Steel curtain tracks for the bi-part traveler curtains and for the one way draw cyclorama. The legs were installed on walk-along No. 284 tracks, while the tormentors were tied-up to a set of No. 28 pivot devices that travel on a No. 2800 track. It was a fun project, and both the stage and auditorium look great!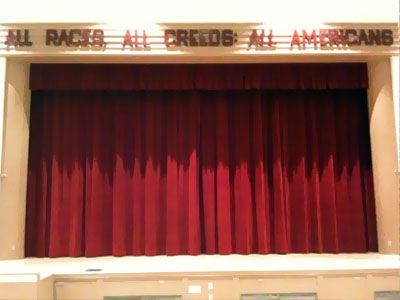 The Proscenium Curtain
Here is a picture of the proscenium curtain and valance in its closed position.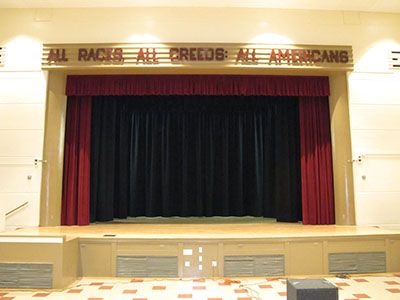 Masking Curtains

The open Grand Drape reveals all the Masking Curtains behind. These stage drapes were manufactured with school district's approved Doral Opaque IFR fabric. Color black, with black vinyl backing.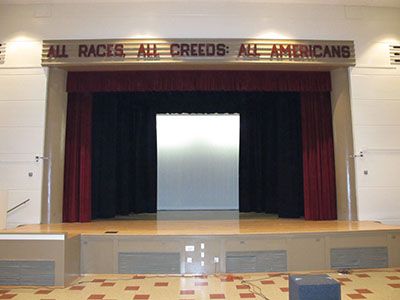 White Cyclorama

The last curtain on stage was the white seamless trevira muslin cyclorama. This backdrop was installed on our SILENT STEEL® 280 curtain track.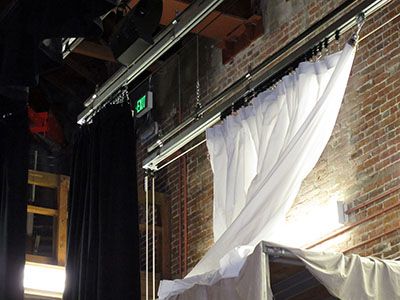 Hanging the Backdrop

A view of the backdrop still sitting on our scaffolding while being installed.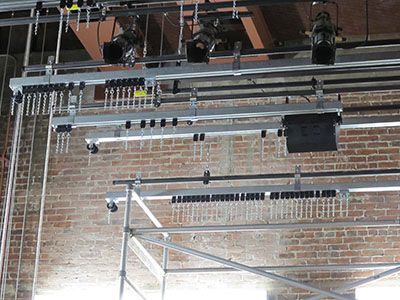 Curtain Track & Rigging

We provided and installed all the cord operated Silent Steel 280 Series curtain tracks. All the tracking systems were assembled on the stage floor, and then hoisted and fastened to the existing 1 1/2" Pipe Battens.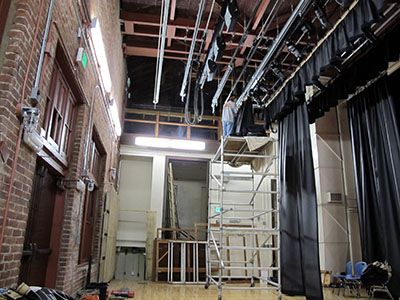 Hanging the Mid Traveler

Our installer on the scaffold hanging the 20' high Doral stage curtains.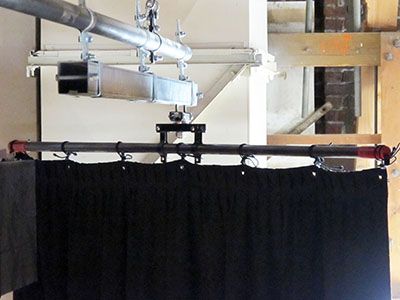 Legs on Rotodraper®

A view of the first set of legs, installed on a No. 28 Rotodraper® pivot arm that travels on a No. 2800 Channel. The track was attached to the above pipe batten with 1 1/2" diameter Pipe Clamps.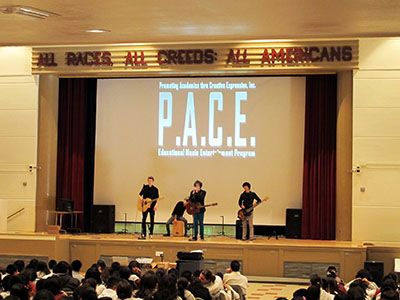 School Concert

Main Curtain open and Projection Screen down during a school concert. Pretty cool, isn't it?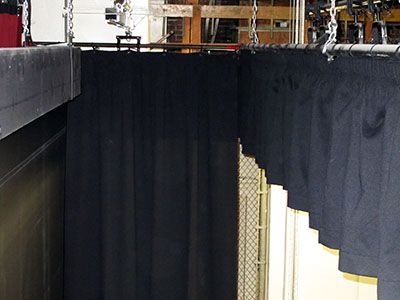 Wing and Border

A view of the side masking wing and the masking border.