The Church at South Las Vegas
The lead pastor of The Church at South Las Vegas called S&K Theatrical Draperies, Inc. to discuss a possible room dividing curtain solution. One of our sales representative traveled to Las Vegas and met with the church pastor to better understand its needs and in that way offer the most appropriate solution. This church has services in different languages, and needed to section off the space to match the needs of each service. S&K Theatrical Draperies, Inc. was pleased to design, manufacture and install an economical room dividing curtain that allows them to adjust the fellowship hall size to match the needs of each service.
Curtain Dimensions: 10' high x 107' wide.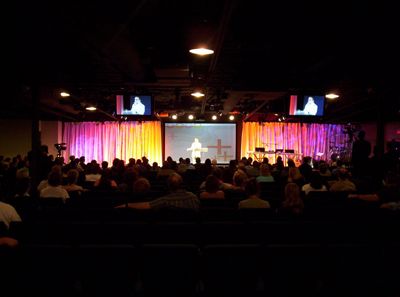 During a service
This picture was taken from the audio/video control booth during a church service. Two pleated Muslin Flame Retardant curtains can be seen masking the walls to the side of the altar. These draperies were custom manufactured for the church a year earlier, and we were certainly pleased to know they reached out to us for more curtains!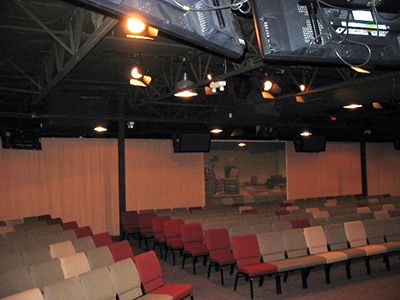 Front view of the curtain

The curtain was made from PD Cloth IFR fabric, and it has a center mesh that attaches to the solid portion of the drape by ways of hook & loop fasteners. This allows for easy access behind the curtain and also for equipment relocation between services. Behind the mesh section the church locates an audio video control booth.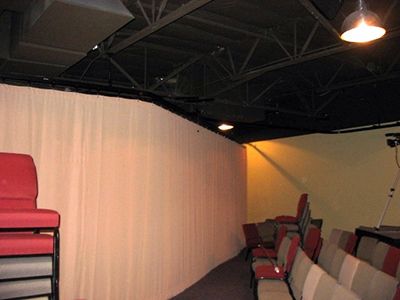 Behind the curtain
All the fabric panels were sewn together with a double needle sewing machine. In this way the curtain has no raw or uneven seems, and it looks equal from both the front side and the back side.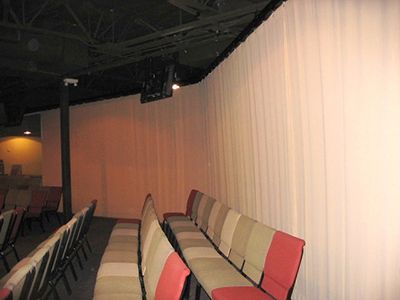 Other view of the curtain
This continuous curtain was installed on a RIG-I-FLEX No. 142 walk-along track (242 for black track and components). Our installers created custom hang points, and suspended the track from the building joists.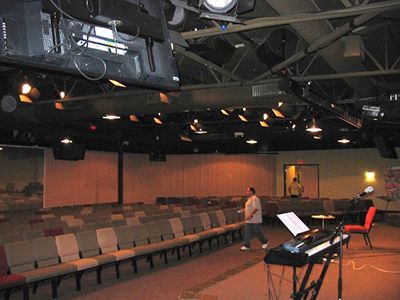 View of the east wall
The hang points were created by the use of 3/8" threaded rods, strut components and 1408-A Threaded Rod Hanger adapters to connect to the track hanger.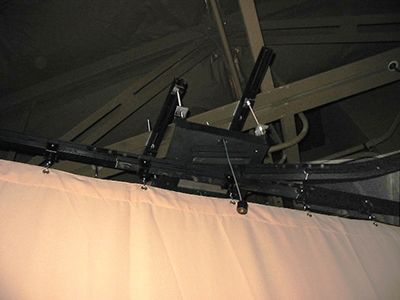 Track Switcher

The No. 143 switching device allows the curtain operator to reroute the curtain from one track to another. This device is positioned as needed by the use of a telescopic Positioning Pole. In that way the church can section off the room for the different services.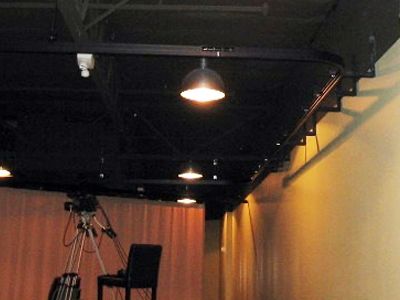 Curtain storage area

The curtain track was fastened to the southeast wall by the use of No. 1483-S Wall Brackets, and this is the area where the curtain stacks when not in use.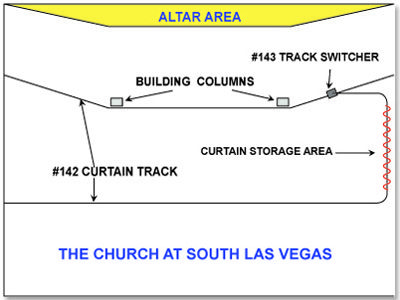 Track & drape layout

This sketch was presented to the church along with the proposal, to help them better understand the design and operation of the walk-along track system and switching device.